A brief summary of chapter 3 "Designing a Home" (55 pages) in The Modular Home, by Andrew Gianino, President of The Home Store
Once you have decided to build a new home, you need to select a plan that meets your needs and expresses your personal style. Most modular dealers try to steer you to one of their standard offerings, and most customers can usually find at least one standard plan that comes close to meeting their needs. Dealers like to work from standard plans because they save them time and simplify their job, since the design, engineering, and pricing have already been done by the manufacturer. Customers benefit accordingly; standard plans are engineered to be built economically, and the price can be estimated quickly.
When standard plans do not work, ask dealers if they will help you design a custom home. If you already have a plan in mind, find out if it can be built as a modular. Many plans drawn up for stick-built houses cannot be built with modular construction, although the dealer may be able to come up with a very similar design. If your plan cannot be built as a modular home, ask dealers to show you plans offering similar features.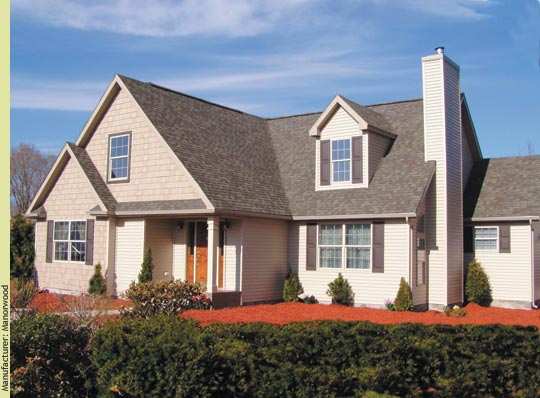 A modern T-shaped Cape with character
Some customers do not have any idea of the type of house they want to build. What then? You certainly can work with an architect. You can also visit a few model homes. Seeing a home and walking through its rooms tells you more about what it would be like to live in that design than looking at its drawings. In addition, you can create a list of your likes and dislikes. This chapter helps you create a list by asking you a series of questions about your preferences. Here are a couple of examples:
Do you prefer one-story or two-story living?

How many bedrooms and bathrooms do you need?

Do you prefer an informal family room separate from a more formal living room?

Do you prefer an informal eating area ("nook") separate from a more formal dining room?

Do you need a study or home office?

Do you want the laundry on the first floor, second floor, or in the basement?
A modular home is created when one or more modules are transported to a building site and assembled on a foundation. Each modular section is a semi-independent structural unit, essentially a box that is built to interconnect with other modules. Whereas "sticks" are the basic building unit in stick construction, and walls are the basic building unit in panelized construction, modules are the basic building unit in modular construction. Modular design, engineering, and construction work because many home designs can be subdivided into modular sections.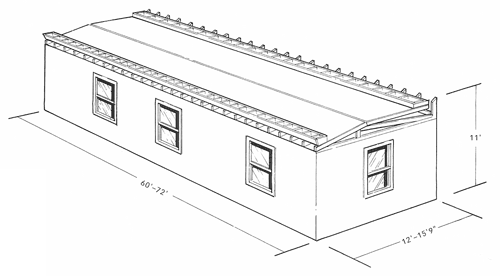 Due to economic, legal. and safety constraints, modules can only be so large. This illustration shows the maximum length, width and height of each module.
Modular construction, like all construction, has design constraints. The limits to what can be built are a function of a module's maximum width, length, height, and structural capability. The limits are themselves determined more by what can be safely, legally, and economically built and transported than by what a manufacturer can fabricate. It is technologically possible to build almost any structure as one or more modules, regardless of size. But delivering two 30-foot by 40-foot modules from the factory to the job site would be another matter, as would lifting it onto the foundation. In spite of these constraints, the design possibilities for modular homes are countless. Since you need to know what is possible with modular construction, this chapter will answer the following questions:
What are the possible widths, lengths, and heights of a module?

How can you combine modules to make different designs?

What kind of changes can you make to a standard modular home plan in terms of layout and exterior appearance and how do these changes impact on the cost of a modular home?

How can you increase the size of a modular home plan by making it longer or wider and how much does this affect the cost?

How can you open up a floor plan in a modular home by removing interior walls?

How do you create cathedral and vaulted ceilings in a modular home?

What do you need to know when you select a modular home with an unfinished story, such as a Cape Cod ?

How can you use dormers to obtain the additional space you need as well as to dress up the appearance of your modular home?

What do you need to know when you are building a raised ranch or split-level modular home?

Can you build a house design with modules even when it cannot be completely constructed at the factory?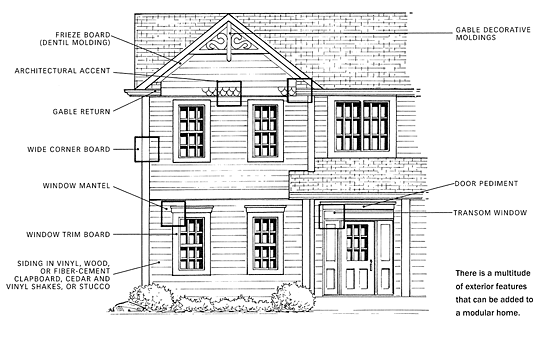 Today's custom modular manufacturers, dealers, and general contractors apply every imaginable exterior finish and flourish to their homes. They side their homes in wood or fiber-cement board, when requested, and they trim out the siding with wider corner boards. In a neighborhood of stucco finishes, they apply stucco. In a neighborhood of cedar shakes, they provide the same. Depending on their customers' preferences, they accent the windows and doors with lineals, shutters, or mantles, and they dress up the eaves with frieze boards and dentil molding. They enlarge the roof overhangs and build gable returns to give the home a more custom look. They lend their homes more character by adding stepped roofs, dormers, decorative gables, and Victorian turrets. Once a modular home's exterior has been dressed up, it is usually impossible to tell whether the home was built at a factory or on-site.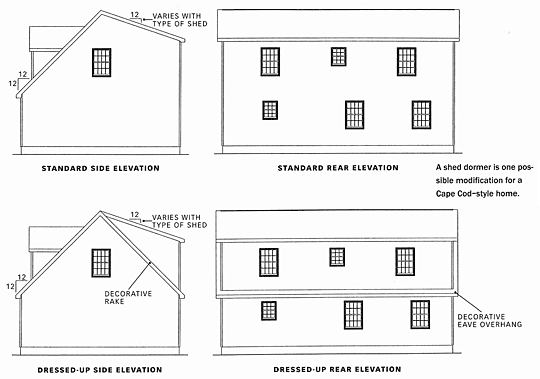 Garages, porches, and decks are almost always built on site by the GC rather than at the factory. It is usually impractical to make them part of the modular assembly, since they are not true boxes. An exception is when the structure is integral to the module, such as when a porch or garage is built into the box. (See chapter 7 (51 pages), The General Contactor's Responsibilities, for more information about the GC's responsibility for building site-built structures.) This chapter will explain how to integrate your GC's site-built structures into the design of your modular home.
Houses that incorporate the principals of universal design constitute a growing trend in residential construction. Though often considered synonymous with "handicapped-accessible" construction, universal design is actually a much broader concept, intended to create houses that are usable by and accessible to all people, regardless of their age, size, abilities, or disabilities. By incorporating features such as level (that is, stepless) entrances, wider hallways, and larger doors, a universal-design home becomes easier to navigate when pushing a child in a stroller, moving furniture in or out, or operating a wheelchair, temporarily or permanently. A home that features universal design will meet a family's needs now and into the future, allowing homeowners to age in place without having to consider moving when their abilities start to slip. This chapter will explain how you can design a home using Universal Design principles. (See chapter 4 (44 pages), "Specifications and Features", for information about Universal Design features available in modular homes.)

A vestibule and double staircase worthy of Scarlet and Rhet Butler
Before your home can be built, the manufacturer will need to draw a complete set of plans. Even if the dealer has already provided you with some good drawings, the manufacturer will need to create its own set, which it will complete with a computer-aided design (CAD) program. This chapter will answer the following questions:
What should you look for when reviewing your modular home floor plans?

What should you look for when reviewing your modular home electrical and HVAC plans?

What should you look for when studying the exterior elevation of your modular home?

How do you make sure that the drawings of your modular home also show the drawings of your site-built structures?

Why do you want the exterior elevation drawings of your home to also show your property's grades?
Chapter Index
To learn more about building a modular home, read excerpts from the other chapters of The Modular Home, (325 pages) by Andrew Gianino, President of The Home Store:
To purchase a complete copy of The Modular Home, click here.